My writing journey began with a challenge.
Travel with Joanne began when I challenged myself to discover and write about a different Sydney suburb each fortnight. My suburban exploration continued for over four years. While suburban exploration is no longer a priority, I continue to discover and write about new places and experiences both in Sydney, around Australia and overseas. 
The blog continues to inspire others to get out and about in Sydney beyond their usual haunts. 
I have also published two children's picture books (see below). 
Freelance Writing
Another challenge – to get one travel story published – has far exceeded any expectations.
My stories have been published in The Sydney Morning Herald, The Sunday Telegraph Escape, The New Zealand Herald, Great Walks Magazine, Reader's Digest, Senior Traveller, Coast Magazine, Broadsheet, Traverse Magazine.
Links to published stories:
Pdfs available for the following stories
Reader's Digest: Genius Eddie and AI (Jewish Museum exhibition) – July 2023
Senior Traveller: Burrawa Bridge climb – May 2023
Senior Traveller: Oyster Farm tour – May 2023
Feedback from Happy Clients
"That is the best piece I have read on Kadoo Tours. The SMH, the Southern Courier and other bloggers have never done it such justice. So very detailed and accurate. We love it." Grant Hyde, Kadoo Tours
"Hi Joanne, it was like walking the tour all over again. In fact, deja vu all over again – you captured the whole experience perfectly!…I love it …..Love your photography" Peter Hook, Hook Communications
"Thank you for a great story. Excellent review. Greatly appreciated your time, observations and indeed questions." John Pastor, Go Local Tours
The Blog
Discovering Sydney one Suburb at a Time
Find links to over 90 suburbs discovered by Travel with Joanne at the foot of the homepage. Downloadable maps and notes enable you to follow my route.
Explore other cultures and cuisines right here in Sydney. Take a coastal walk or discover the inner city or suburbs bursting with heritage. Suburban Sydney has much to offer the curious.  
Tours I've Enjoyed
As not everyone enjoys exploring independently, I write about short tours in Sydney that interest me. Usually, I pay my own way. If I'm a guest of the operator, I will always let you know and write accurately about my experience.
Follow this link to the tours I've written about.
Other Travels
I regularly write about my travels both within Australia and overseas. These posts include personal essays as well as useful information for those wishing to do similar trips.
Here's a link to my  travels within Australia and here's the link to my overseas travels.
The Children's Picture Books
My two self-published children's picture books tell a story about places very dear to my heart, Dangar Island and the Hawkesbury River. "Dangar Island: Birds, Barrows a Ferry and Me" and "The Riverboat Postman" are suitable for children from about age 3 to early readers.
Dangar Island: Birds Barrows a Ferry and Me
"Dangar Island: birds, barrows, a ferry and me" is a simple story told in rhyme about the enviable life of children who live on Dangar Island. Available here
The Riverboat Postman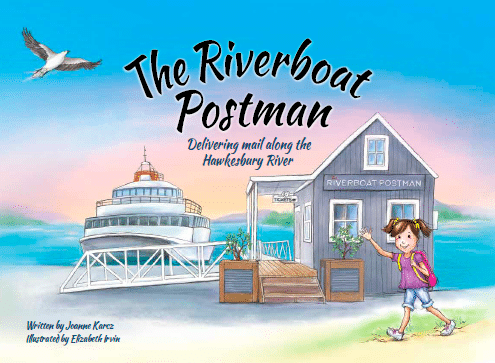 "The Riverboat Postman", also in rhyme, tells the story of the ride that two children take on The Riverboat Postman, delivering mail along the Hawkesbury River. Available here